Workshops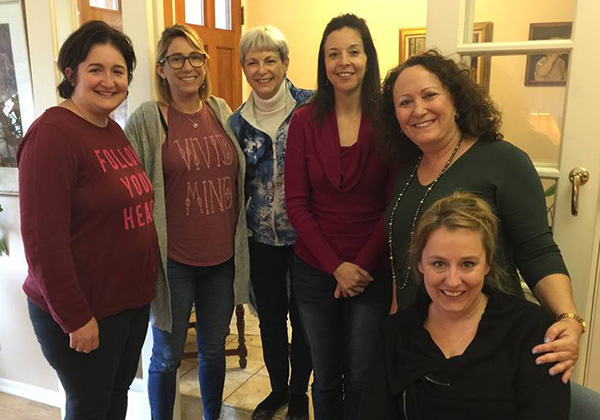 In an intimate and comfortable home environment, you will learn all you need to support pregnant and postpartum parents. If you walked into the Institute with any discomfort about the topic, you'll leave feeling at ease! You'll enjoy discussions in a completely non-judgmental and open atmosphere. We'll provide suggestions and have plenty of Q and A about how to approach new parents and what you want to avoid. What to ask, watch and listen for as you interact with them, the nuances you can recognize (not taught anywhere else) will be gleaned through presentation of various scenarios and role play. You will gain new insights and ideas about how to bring this new understanding into your lives and workplaces. Whatever you'd like to bring to your community or into your practice will be focused on in depth, and we'll end the Institute with these exciting action steps.
One of the unique benefits to participants of our institute is getting together for this wonderful event in person. We encourage all who can to meet in Jane's living room for this special weekend. Never before have we offered PAI virtually, but because of the times, we decided to make this an option. We look forward to welcoming you whether in person or virtually!
As a graduate of the Parental Action Institute, you'll also be eligible to join our follow-up calls. We'll announce when the calls will be at the end of our time together on Sunday.
Most PAI workshops will be held in Santa Barbara. However, individuals are encouraged to invite the Institute to be held in their own communities. Certain criteria apply. Please ask the faculty if you're interested in this option.
Interested in attending a workshop? Register now!
"PAI was wonderful, informative, interesting, and fun! As a doula and postpartum educator preparing for an MSW, PAI was a perfect combination of relevant educational and motivational that helped me to put into action a more concise plan for my future! Highly recommended!"

Kimberly Zuleger
PPD group leader, doula, graduate student in social work
Our Vision
PAI's vision is to motivate every community to create a support network for new families through grassroots action.
Workshop Goals:
Explore the fundamentals of PPD and how to feel comfortable with the topic.
Be able to empower parents to help themselves by creating personalized wellness plans.
Understand why the old, traditional therapy guidelines often do not apply when working with new parents.
Learn out-of-the-box questions to ask new parents which can determine if they are depressed.
Know what to do/not do, say/not say to the partners and other close family and friends.
Learn to listen and see nuanced expressions from both the new mom and dad that will help you provide more effective support.
Gain insight into the often unrevealed self-talk of new parents.
Learn how to build a supportive community for new families.
Acquire the most effective treatments and expose those that often make depression and anxiety worse.
Receive individual consultation, if requested.
Individuals who should attend include, but are not limited to:
Mental health professionals beginning to focus their practices on perinatal mental health
Community leaders and activists
New parent group leaders
Seasoned professionals
Pregnancy and postpartum depression group leaders
Parent advocates interested in developing community support
Lactation consultants
Neonatal care professionals
Doulas
Midwives
Faith community leaders
Child development and daycare professionals
Labor and delivery nurses and all related medical professionals
Students and recent graduates
Availability is limited, please register now to attend!